I-5 doesn't have to be a long, boring drive… You're a little ahead of schedule and you've got a few extra hours, so what's your hurry? Why not take a side trip? Get off the Interstate and discover the real America… small towns, scenic coastlines, historic communities and some of the west coast's most enjoyable roadtrips.
Chinook Scenic Byway
Length: 85.0 mi / 136.8 km
Time: It takes approximately three hours to drive the byway
Fees: Some campgrounds charge fees.
Travel the glacier-fed White River from Enumclaw, over Chinook Pass, to the fertile valley of Naches. Spectacular views of Mount Rainier, dense forests, towering peaks, rocky ridges, and river canyons dominate this journey. Pass by the unique basalt flows of the Columbia Plateau, lush sub-alpine meadows, and waterfalls.
Driving the Byway
The Chinook Scenic Byway begins in Enumclaw and follows the highway through the two national forests and Mount Rainier National Park to US 12 in Naches.
Starting from Enumclaw, drive on WA-410 until Greenwater.
Continue on WA-410 for 52.5 miles until reaching Cliffdell.
From Cliffdell, continue on WA-410 for 20.5 miles
The byway ends in Naches.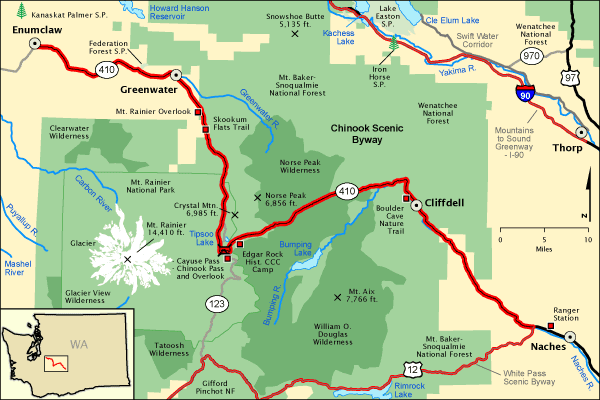 Content reproduced with permission from the National Scenic Byways Online: www.byways.org