I-5 doesn't have to be a long, boring drive… You're a little ahead of schedule and you've got a few extra hours, so what's your hurry? Why not take a side trip? Get off the Interstate and discover the real America… small towns, scenic coastlines, historic communities and some of the west coast's most enjoyable roadtrips.
Mountains to Sound Greenway
Length: 100.0 mi / 160.9 km
Time: Allow 1.5 to 2 hours to drive the byway.
Fees: There are no fees along the byway proper.
Driving the Mountains to Sound Greenway
Drive east from Seattle on I-90 through pastoral valleys, lush forests and a dramatic mountain landscape. Visit historic towns and scenic spots for forest walks or challenging hikes. Cross the Cascades into a drier climate where coal mining built pioneer towns on the way to the Columbia River.
The Mountains to Sound Greenway is a 1.5 million-acre landscape situated in the Pacific Northwest.
Framed by the urban areas of Seattle and Ellensburg, the Mountains to Sound Greenway is woven together by the historic transportation corridors and an extensive network of trails that link the public to the landscape. The Greenway is shaped by watershed boundaries: the Yakima to the east, the Cedar to the south, Snoqualmie and Lake Washington to the north, and Puget Sound to the west.
The Greenway as it is today was first envisioned in 1990, when a group of citizens hiked from the Cascade Crest alongside Interstate 90, through the forest all the way. The Seattle region was on the verge of a significant economic boom, and unchecked sprawl threatened much of the region. In 1991, the Mountains to Sound Greenway Trust was founded to work toward a shared vision of keeping some of these natural lands within a connected, multi-purpose Greenway between Seattle and Central Washington.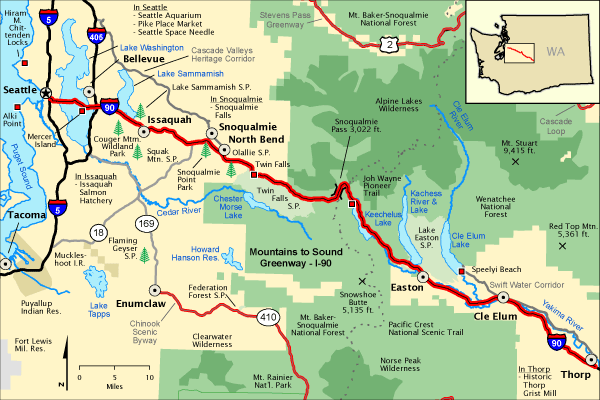 Driving Directions: Starting from Thorp, travel on 1-90 West to Seattle. The byway travels through towns of Cle Elum and Easton. Continue over Snoqualmie Pass into North Bend and through Snoqualmie and Issaquah. The byway also goes through Bellevue and Mercer Island before its final destination in Seattle.
---
The I-5 Exit Guide is the Internet's largest and most complete website dedicated to Interstate 5 travelers. Find detailed exit service listings… lodging, camping, food, gas and more for every exit from Washington to California!
On the road? Why not take us with you. The I-5 Exit Guide is mobile-friendly and totally FREE. No App Required.
Traveling another route? Visit our growing family of exit guides:  I-4 Exit Guide, I-5 Exit Guide, I-10 Exit Guide, I-75 Exit Guide, I-80 Exit Guide and I-95 Exit Guide. Detailed exit service listings… discount lodging, camping, food, gas and more for every exit along the way!