I-5 doesn't have to be a long, boring drive… You're a little ahead of schedule and you've got a few extra hours, so what's your hurry? Why not take a side trip? Get off the Interstate and discover the real America… small towns, scenic coastlines, historic communities and some of the west coast's most enjoyable roadtrips.
Arroyo Seco Historic Parkway – California
Length: 9.5 mi / 15.2 km
Time: During non-peak traffic hours, plan for twenty minutes to drive or one hour to see the entire byway.
Fees: None
About the Arroyo Seco Historic Parkway
The Arroyo Seco Parkway connects Los Angeles and Pasadena through the historic Arts and Crafts landscape of the Arroyo Seco. Conceived in the parkway tradition with gentle curves, lush landscaping, and scenic vistas, the byway incorporated the modern elements that would lay the groundwork for the California freeway system.
The Arroyo Seco Parkway, formerly known as the Pasadena Freeway, is the first freeway in the Western United States. It connects Los Angeles with Pasadena alongside the Arroyo Seco seasonal river. It is notable not only for being the first, mostly opened in 1940, but for representing the transitional phase between early parkways and modern freeways. It conformed to modern standards when it was built, but is now regarded as a narrow, outdated roadway. A 1953 extension brought the south end to the Four Level Interchange in downtown Los Angeles and a connection with the rest of the freeway system.
The road remains largely as it was on opening day, though the plants in its median have given way to a steel guard rail, and most recently to concrete barriers, and it now carries the designation State Route 110, not historic U.S. Route 66. Between 1954 and 2010, it was officially designated the Pasadena Freeway. In 2010, as part of plans to revitalize its scenic value and improve safety, the California Department of Transportation (Caltrans) restored the original name to the roadway. All the bridges built during parkway construction remain, as do four older bridges that crossed the Arroyo Seco before the 1930s. The Arroyo Seco Parkway is designated a State Scenic Highway, National Civil Engineering Landmark, and National Scenic Byway. It was listed in the National Register of Historic Places in 2011.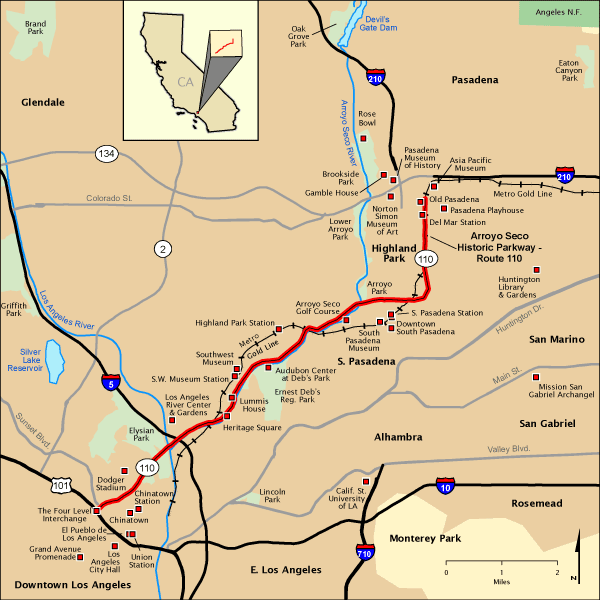 Driving Directions: Begin at the Four Level, the intersection of US 101 and SR 110 (The Pasadena Freeway) in downtown Los Angeles.
Continue northbound on the Arroyo Seco Parkway (State Hwy 110).
Continue following the Parkway through Los Angeles toPasadena.
End on Colorado Boulevard in the heart of historic Old Town Pasadena.
---
On the road? Why not take us with you. Visit our growing family of exit guides: I-4 Exit Guide, I-5 Exit Guide, I-10 Exit Guide, I-75 Exit Guide, and I-95 Exit Guide. Detailed exit service listings… discount lodging, camping, food, gas and more for every exit along the way!